ITS Logistics' Third Midwest Distribution Center Opening in 2023
Reach more customers in the United States with a Midwest distribution center
A diversified distribution and fulfillment network with multiple nodes can allow businesses to reach more customers in less time. A Midwest distribution center offers significant advantages for operations, particularly in Indianapolis, Indiana. Indianapolis' central location provides ready access to national and international highways, able to reach 75 percent of the United States and Canadian populations in less than two days and more than 110 million people within a day's drive. When paired with a strategically located west coast distribution center or warehouse, more than 90 percent of the US population can be reached within two days.
With access to several major interstates, a large rail network, three ports and 117 public use aviation facilities, Indiana ranks highly in a variety of categories, including:
1st in the nation in pass through highways, with five major interstates running and intersecting in the state including I-65, I-70, I-74 and I-69
1st in the nation in infrastructure (with a $10 billion investment in transportation enhancements)
9th in the nation for total rail miles
11th in the nation for waterborne cargo traffic, with 400 miles of waterways navigable by cargo vessels and 3 ports
8th largest air cargo facility at Indianapolis International Airport
2nd largest FedEx hub in the world
Indianapolis is also near two major logistics hubs: Chicago and the UPS Worldport Air Hub in Louisville, Kentucky. Chicago is less than three hours away and is the largest rail hub in the United States. The city has the highest number of transportation providers in the country and the third largest intermodal container and trailer port in the world. Less than two hours away lies the UPS Worldport Air Hub in Louisville, Kentucky. This is the fourth busiest cargo airport in the world and the second busiest in the US.
ITS Logistics expands operations with new distribution center
In 2021, ITS Logistics first expanded into the Midwest with its first location in Indianapolis. The 350,000-square-foot facility was joined by a second 260,000-square-foot distribution center earlier in Q2 2022. The second expansion also added regional trucking operations including dedicated contract services, drayage, line haul, expedited, storage and drop trailers, rapid replenishment fulfillment and transportation, and special projects/warehouse moves.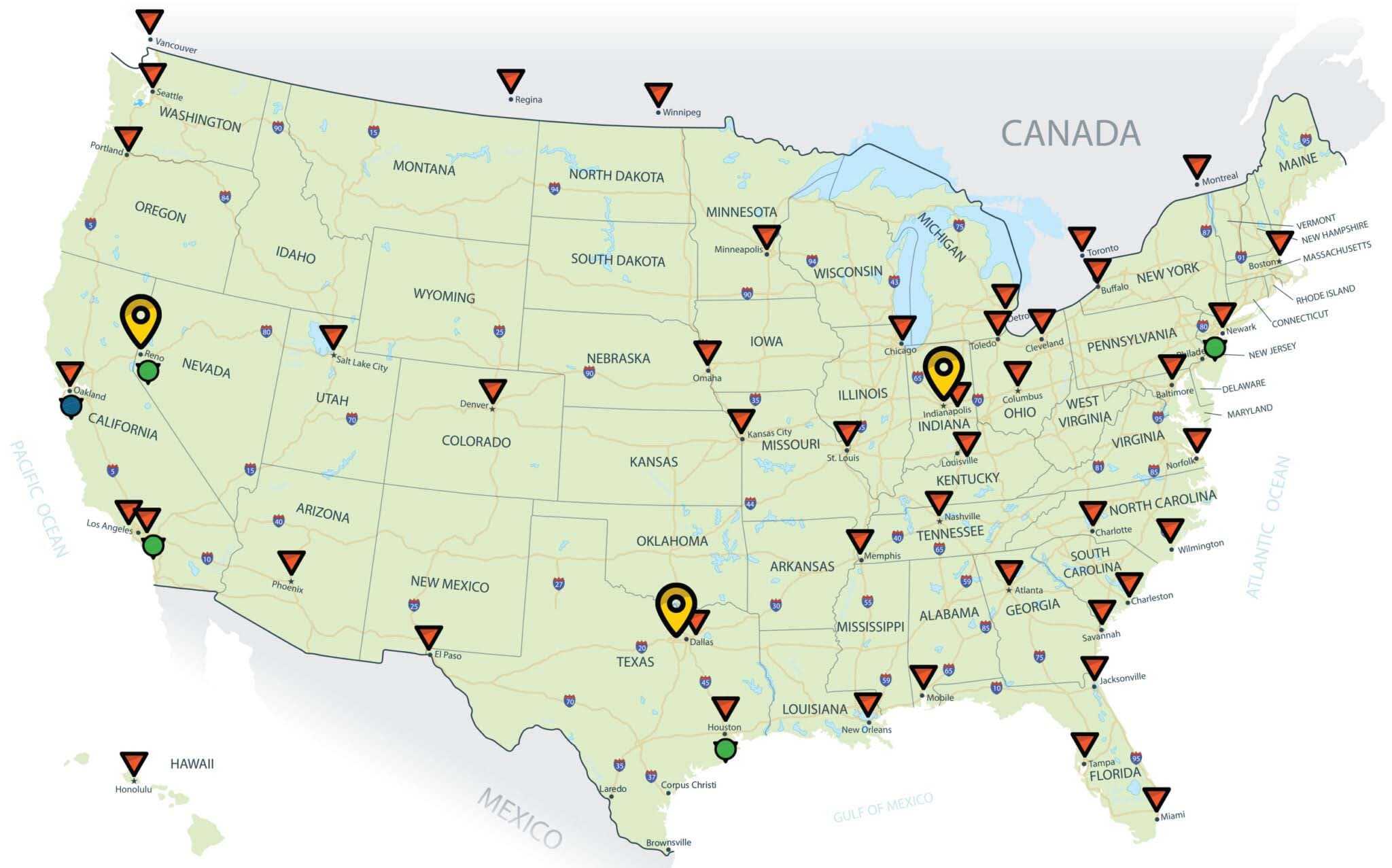 Coming in Q2 2023, a third 700,000-square-foot warehouse will join the ITS Indianapolis campus, totaling more than 1.3 million-square-feet of space. This combined with its west coast distribution centers allows ITS to offer its customers more than 2.6 million-square-feet of capacity with services that can reach more than 95% of the United States in two days.
"Midwest expansion has long been a growth priority for ITS, and we've been fortunate to build a great workforce in Whitestown in a short amount of time," said Ryan Martin, president of assets at ITS Logistics. "Our ability to distribute to the entire country quickly will enable us to further increase our level of service for our clients, providing innovative fulfillment solutions across distribution modes."
Our Indianapolis 3PL is strategically located in Whitestown, Indiana. It offers the ideal location for a Midwest distribution center and is the perfect complement to our West Coast distribution center in Reno, NV and our Southern distribution center in Dallas/Fort Worth, TX. With over 3 million square feet across all of our distribution facilities and a knowledgeable team of distribution, fulfillment and warehousing experts, we can offer you a unique nationwide solution that will help you grow your business. Give us a call to learn how we can help you with your supply chain needs today.
Discover how ITS Logistics has helped their customers
How can we help you?