How Does Ocean Capacity Affect Imbalanced Retail Inventory?
Imbalanced retail inventory aggravates ocean shipping overcapacity
Overcapacity is plaguing the supply chain in the transportation sectors, while the warehousing sector continues to suffer from severe lack of availability and imbalanced retail inventory. The current ecommerce environment has dramatically shifted and made it difficult to sift through which inventory management strategies are valuable and which are not. However, there is strong data to support the dramatic upsurge in ecommerce during the pandemic. While consumer spending has leveled off a bit, ecommerce is still forecasted to grow at impressive rates for the foreseeable future.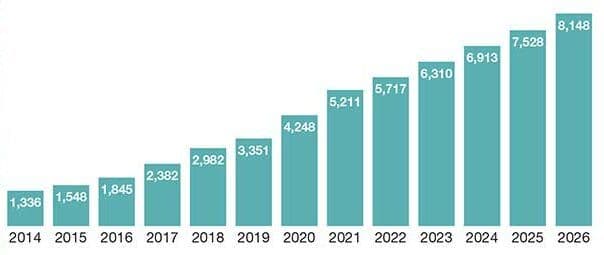 The packaging market also took off through the pandemic as customer expectations skyrocketed, and not only did parcel carriers have to adjust, but so did carrier networks. The rapid growth of unattractive freight from stores and other low-density origins was a result of stores lacking robust packing solutions. Many turned to third-party logistics companies because they not only have the packing expertise, but the dock space, pick density, and space to organize shipments.
Ocean-shipping rates to send a container from China to the US have been falling, a sharp comparison to 2022 when they reached the height of the market. Lack of dock and warehouse space, as well as a shortage of truckers and trucking equipment created a 20% increase in freight snarled supply chains. Bottlenecks caused transit times for cargo to more than double and supply chain costs to sharply increase as inflation hit a four-decade high last year. This year, retailers are looking to slash shipping costs and save millions of dollars when they sit down to negotiate long-term contracts with ocean carriers.
Two-year forecasted orderbook exacerbates vessel overcapacity
In the coming months, a flood of new container ships will enter service. Orders that were placed during the pandemic, when oversea orders were in abundance, are picking up this month and will continue until 2025.
The orderbook is quite large, totaling 7.69 million twenty-foot equivalent units (TEUs), just under 30% of on-the-water fleet capacity. Stats show that 89 new mainline vessels will be delivered throughout the remainder of 2023, followed by 130 in 2024, and 96 in 2025, for a total of 315. Ocean carriers are expected to face a tough few years as a result of the ordering spree, the capacity on order far exceeding what the global market will ever need.
The newbuilding wave is coming at a time of shrinking demand and will inevitably trigger further overcapacity. As the new vessels arrive, carriers will scrap older ships and let older chartered tonnage go off-hire which should eventually rebalance their fleet to meet demand. During the height of the pandemic, ocean carriers struggled to meet demand for space as homebound consumers ordered massive amounts of ecommerce. Logjams at Southern California ports led to lengthy delays in trans-Pacific trade and created an equivalent of a 14% reduction of global capacity.
The backlogs have been cleared out; however sailings are still being canceled in an attempt to match supply and demand. Shipping companies are already signaling the impact of weakening demand, evidenced by forecasts on annual earnings. Lower ocean shipping expenses will help to steady prices, especially as many retailers have pulled back on orders while working through a backlog of inventory.
Weakened consumer demand continues through Q1
The rebalancing of US retail inventories is taking longer than expected and has prolonged a slump in global shipping during weakened consumer demand. Major retailers have release financial reports, some reporting operating profit falling by more than 85% year-over-year (YOY) in Q4 2022. As a result, companies are planning for balanced inventory and focusing on merchandising and establishing stronger control processes. New strategies are being implemented and developed to mark goods, getting rid of excess inventory or slow-selling items on a more even flow throughout the year rather than waiting.
According to the New York Federal Reserve Bank, credit card balances in the US hit a new all-time high of $986 billion. Americans continue to spend, but prices are also increasing making it unsurprising that spending would fall among discretionary income. Some retailers who can afford to slash prices will see a benefit from consumers searching for deals to save money. Other retail giants with a strong loyalty from current customers, such as home renovations, are confident of sales in the upcoming environment.
Some carrier executives state that a broad inventory glut will run out by mid-summer and shipping customers can expect to resume restocking shelves as they prepare for the fall back to school and soon-to-follow peak season. The demand forecasting is based on projections by shippers that suggest a return to a more normal ordering and shipping cycle after two years of pandemic-related turbulence.
Retail inventory management to avoid surplus inventory with a trusted logistics partner
Both retailers moving private brands and 3PL warehouse fulfillment centers delivering multiple brands to customers must make fulfillment faster and more efficient to keep up with consumer expectations. Last mile has become increasingly complex due to the many pickup points, variety of delivery modes, and the varying destination types. For example, the pickup point could be a store, distribution center, cross-docks or someplace else. The delivery mode could consist of small trucks, delivery vans, or even drones. The destination could be a home, a business, or a locker.
Simplify the complex by partnering with ITS Logistics. From successful startup to mid-cap to large-scale global distribution and fulfillment, we have experience at every level and can assist with supply chain planning and deliver for your customers. We provide comprehensive B2B, D2C, retail and omnichannel distribution services—from a single small parcel ecommerce delivery to LTL and full truckload distribution to every major retailer, including Walmart, Costco, Home Depot, Target and more. With advanced EDI, API and custom system integrations, expertise in vendor compliance and routing guides, and a hyperfocus on customer service, we will help you increase efficiency and ultimately save you time and money.
Discover how ITS Logistics has helped its customers
How can we help you?