How ITS Logistics is working to become one of the best trucking companies for drivers
There has been an increasing driver shortage in the US for years and pandemic-related supply chain challenges, as well as the growing demand for logistics services, have only exacerbated the issue further in 2021.
Recently American Trucking Associations' Chief Economist Bob Costello said the current driver shortage has risen to 80,000 – an all-time high for the industry. "Since we last released an estimate of the shortage, there has been tremendous pressure on the driver pool," Costello said. "Increased demand for freight, pandemic-related challenges from early retirements, closed driving schools and DMVs, and other pressures are really pushing up demand for drives and subsequently the shortage."
At ITS, truck drivers are the backbone of our trucking company and over the past year, we have spent a lot of time working hard to ensure our professional truck drivers feel appreciated and to work hard to be one of the best trucking companies for drivers.
It starts with people. At the beginning of 2021, we added a new President of our Dedicated Fleet Services (DFS) division as well as a Senior Director of Operations and two new Senior Operations Managers. We also hired a new recruiting manager, recruiting specialist and recruiter to our truck driver recruitment team to help with the goal of attracting the best drivers for open trucking jobs. Together, this new team did a deep dive into our operations at every level and recommitted to focusing on drivers as what they are: the heart of our dedicated fleet transportation division.
Revamped pay and benefits
Great pay and benefits are an important part of any job, so the first thing we did was simplify our pay and benefits plans by adding in a competitive pay-for-experience model for new professional drivers, a 6th-day incentive program that can increase weekly wages by up to 10%, and above-market competitive salary raises for local, regional and OTR drivers across the board. We have some of the best drivers in the trucking industry and they deserve to be paid that way.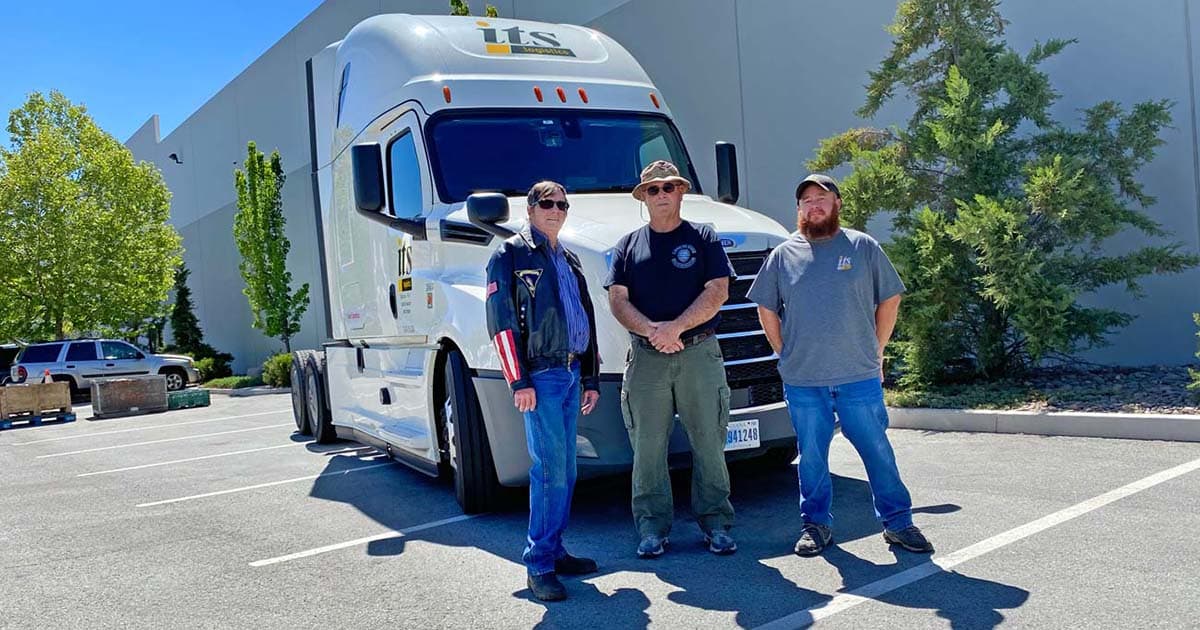 Veterans trucking program
We focused on adding a new Veterans Trucking Program that pays veterans for their experience in the military (up to 20 years). We know veterans are true heroes with great experience and qualifications from the military and want to ensure they are paid to reflect the time they spent serving our country—Thank you, veterans! Plus, truck driving is one of the best careers for veterans after their military time is over.
Process improvement and increased communication
We knew that in order to be one of the best trucking companies for drivers we needed to improve our communication processes. We implemented an open-door policy for everyone on the leadership team, began sending a monthly newsletter to all drivers to ensure they are informed on what's going on in every division at ITS, created a monthly Q & A forum so drivers can ask questions and make suggestions for improvements, and started doing 30-60-90-day check-in calls and quarterly ambassador calls. Our team also focused heavily on improving our Road to Success onboarding and training programs to ensure each new driver employee starts off on the right foot with all the resources they need to have a successful long-term career with ITS.
Appreciating our drivers
Our team continues to work on the ways in which we appreciate our drivers on special occasions—and every day. We do this through things like an annual company tailgate party, one of our best Driver Appreciation Weeks yet in 2021, company BBQs throughout the summer, personal thank you, anniversary and birthday cards for all drivers, and a newly renovated driver lounge at our Sparks terminal. We continue to find new ways to let our truckers know we appreciate them every day of the year.
We're proud to say we've accomplished a lot recently and are happy to announce that our driver turnover rate dropped from a high of 94% in 2020 to less than 68% in 2021. However, we know the work is not done and plan to implement processes that will continue to make ITS one of the best trucking companies for drivers.
Hit the road with ITS Logistics
At ITS, we are seeking experienced drivers to join our team. We offer competitive pay and benefits, a 401k option with company match, national healthcare coverage, generous home time, dedicated freight, paid vacation and holidays—and most importantly, respect.
If you think you have what it takes to join the ITS team as a company driver, check out our current job openings and apply or contact us at (866) 303-2518 and one of our friendly recruiters will reach out to you within 24 hours.
How can we help you?