Will Port Labor Negotiations Exacerbate Inflationary Pressure?
Port labor negotiations underway since contract expiration
Port labor negotiations between the Pacific Maritime Association (PMA) and the International Longshore and Warehouse Union (ILWU) the last two decades have historically been contentious and marked by freight delays. In May 2022, talks began on a multi-year contract covering more than 22,000 dockworkers at 29 ports on the West Coast, from California to Washington. Dockworkers on the west have been working without a contract since it last expired in July 2022, forcing BCOs to shift cargo to East and Gulf Coast ports to avoid disruptions.
Leading into the 2023 Easter holiday weekend, terminal operations at the ports of Los Angeles and Long Beach were closed for 24 hours beginning on Thursday night. The ILWU Local 13 reported that members were absent outside of pre-negotiated contract terms Thursday night due to a monthly membership meeting and Friday for the religious holiday. Despite the work stoppage, this significantly strained operations at the ports and there has been no contract negotiation breakthrough. This recent event was preluded by a one hour work stoppage in March in which all port workers took their lunch at the same time.
A long history of contract talks
In 2021, dockworkers processed over $294 billion in trade at the Port of Los Angeles, the most in the port's 115-year history. Half a million shipping containers waited outside the port for weeks due to the pandemic and resultant supply chain crisis. Just when the backlog began to clear last summee-first-president-to-take-interest-in-the-port-in-2002-former-president-george-w-bush-threatened-to-send-in-us-troops-after-the-international-longshore-and-warehouse-union-ilwu-that-represents-many-of-the-workers-allegedly-initiated-ar, the ILWU contract expired, and they entered labor negotiations with the PMA. The union is known as one of the most powerful in United States history, dating back to the early 1900s. Longshoremen are some of the highest paid workers in the US, with some making up to $300,000 per year.
A look back at historical ILWU negotiations:
1902 – 1933: West Coast longshoremen attempted to unionize several times, but local unions were easily divided.
1934: The union voted to strike on May 9 for 83 days, with thousands of dockworkers walking out of work, soon followed by seamen and teamsters.
1937: The ILWU was formed when West Coast dockworkers gradually broke off from the ILA, which now represents only East Coast workers.
1947: Nearly 27,000 workers boycotted the Labor Management Relations Act, reaching a negotiation after 95 days.
1971: ILWU workers walk out of every port on the West Coast on a long and arduous strike that lasted 134 days, after the introduction of shipping containers. Caught in the crossfire were shipments to military personnel in Vietnam. The strike was estimated to cost the Pacific Coast states over $1.7 billion (equating to more than $12.6 billion today).
2002: Amid labor negotiations, dockworkers are accused of coordinating work slowdowns at several ports and locked out by management. The 11-day lockout was estimated to the cost the US about $1 billion in trade per day ($11 billion total). An agreement was reached approximately two months later.
2014: The union was again accused of initiating slowdowns when its contract expired. Employers in 29 ports locked longshoremen out for ten days. The National Retail Federation estimated that the lockout cost the US economy $2 billion per day ($20 billion total).
2017: The contract was extended to be negotiated again in 2022.
2022: Labor negotiations began between the ILWU and the Pacific Maritime Association (PMA). An agreement was tentatively met on certain key issues, but talks are continuing today to resolve remaining issues. West Coast ports have continued to operate.
West coast ports undergo decline in cargo processing
Due to a fear of strikes and walkouts, shippers have largely chosen to divert cargo from the West Coast to the East and Gulf Coast ports for the past 12 months. In January, the Port of LA processed 16% less cargo than it did in January 2022. According to Bloomberg news service, ports on the West Coast could permanently lose as much as 10% of the seaborne cargo that has been diverted to the Atlantic Coast. These port disruptions come at a difficult time for the nation's largest port complex, which handles 40% of containers.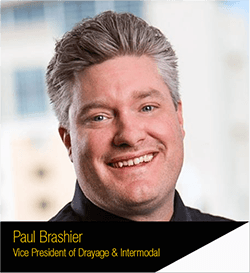 Paul Brashier has been an industry leader in the sales and logistics industry for over 20 years, working for such companies as Schneider National, Coors Brewing, and Coca-Cola. Joining ITS Logistics in 2015, Brashier created and elevated the drayage and intermodal division to #11 in the United States to over $300 million in revenue. Having been featured in CNBC, the Wall Street Journal, MarketWatch, Bloomberg, The Loadstar, CBS News, Freight Waves, and Transport Topics, Brashier lends his expertise on US and global supply chain matters. When he isn't working, which is rare, he spends time at his ranch with his wife and family, travels, and volunteers for the Down Syndrome Network of Northern Nevada.
How will recent changes in labor negotiations affect the current state of supply chain and US inflationary pressures?
ITS Logistics Vice President of Drayage and Intermodal, Paul Brashier, shares his insight:
"Supply chain professionals saw a different side of the ILWU during the pandemic than the public. For example, when navigating through the thick of pandemic-related disruptions, there were efforts put into place to keep terminals operating 24/7. However, union workers chose to take their normal 2 to 3 days off during the holiday season around Thanksgiving and Christmas. This prevented access to the terminal during that time. This made it difficult for the non-union professionals to execute and mitigate adverse effects during the most difficult time in supply chain history. Over the last 18-24 months, there was not much participation or buy-in from the unions to help dig us out of those problems. Our organization and our clients would work around the clock during the pandemic to get containers out of the terminals to try to stop the hemorrhaging of demurrage and per diem fees.
The current lack of an enforceable contract has led to smaller events and disruptions since the last contract expired in July. As we have seen throughout the union's long history, these negotiations have always come with a cost. And these costs ultimately get passed to the consumer. Previously, transportation made up most, if not all, of the inflation we have seen, but those costs have gone down drastically. BCOs were paying $20,000 over the last 18-24 months to ship a container trans-Pacific to the West Coast, not considering D&D charges. Today that same rate is sub-$2,000. As for trucking charges, those have gone down drastically as well. This RFP season, we saw drayage rates drop as much as 45 – 60%. So, any inflationary pressure we are seeing in the market right now is not due to transportation.
"Failure to come to an agreement between both parties could exacerbate inflationary pressures that have already hurt the economy."
Failure to come to an agreement between both parties could exacerbate inflationary pressures that have already hurt the economy. The best scenario would be to get a deal done between the ILWU and the PMA before Q3 this year, with peak season coming. Because so many shippers have been diverting to the East and Gulf Coast, the PMA has leverage now. That leverage will disappear once holiday cargo starts arriving.
I think the question is: Are union workers committed to keeping the supply chain moving and minimizing inflationary pressure on an already stressed economy – or their own self-interest?"
Navigate seaports and port facilities with confidence
ITS Logistics, one of the fastest-growing logistics companies in the United States, provides port and rail drayage services in 22 coastal ports and 30 rail ramps throughout North America.
ITS is currently ranked as the #11 Top Intermodal/Drayage Carriers in North America by Transport Topics.
How can we help you?