Why Dallas-Fort Worth, TX is the Perfect Location for Your Distribution
Reach More of the US Population Faster Using Distribution Centers in Central Texas
When it comes to freight, few states move as much as Texas. Texas moves an estimated 3.3 billion tons of freight per year and has been America's top exporter for 21 years running. It has more miles of rail and road than any other state, has the largest Gulf Coast container port (Port of Houston), and offers low operating costs with few land restrictions. If Texas were a country, it would be listed as one of the world's top 10 largest economies. Maybe the adage holds true that everything is bigger and better in Texas, in terms of business at least.
There's a more obvious reason to run freight through distribution centers in central Texas, and it all comes down to geography. Its location and infrastructure give businesses the ability to reach majority of the United States population within three days, which is a serious advantage in modern commerce and ecommerce fulfillment. However, when a Texas distribution center is supported with additional resources on the east and west coast, a business can reach 95% of the US population within two days.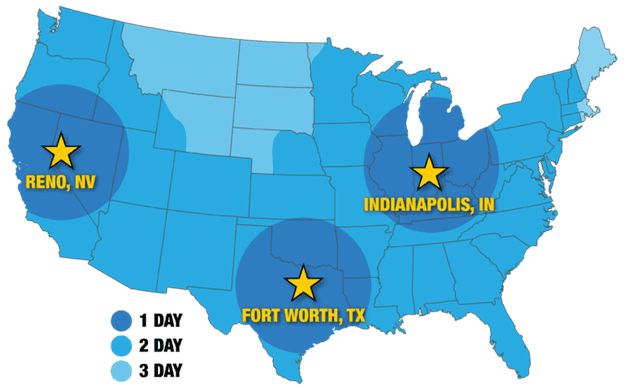 Let's look at some of the other nuances that make Texas a great place for distribution.
Proximity to Ports of Entry
Texas has 29 official ports of entry that serve as critical gateways to global trade. It is also logistically centered with multiple interstate intersections and railway networks, as well as large hub airports providing both cargo and passenger service, making the state a good destination for reshoring initiatives.
Booking freight to one of Texas' ports is a vital necessity, especially when west and east coast ports experience congestion. Texas's proximity to ports opens up opportunities to increase efficiency and reduce assessorial charges, such as demurrage and per diem.
International Trade
Texas is a well-positioned hub for international trade. The state shares a border with Mexico, America's second top trade partner. And the 2015 Panama Canal expansion, which nearly doubled the canal's capacity and made room for larger ships, better positioned Texas for Asian trade, especially given the bottlenecks that commonly occur at West Coast ports.
Dallas also offers phenomenal rail transportation. Fort Worth-headquartered BNSF Railway has an extensive hub system throughout North Texas. Union Pacific operates the Dallas Intermodal Terminal in southern Dallas county, moving goods and services throughout North Texas and beyond.
Great Infrastructure for Over the Road Transportation
Road freight transport is one of the major segments in Texas, driven due to the robust highway network in the state. It ranks #1 among the 50 states for total lane miles and has 4 of the top 8 cities for lane mileage per capita. It also has some of the lowest average fuel prices in the country.
A Trajectory of Economic Growth
Driven by strong logistics infrastructure, increasing population, and rising demand for logistics, Texas's freight and logistics market is expected to record a CAGR of 4% during the forecast period, 2022-2027.
During the past 10 years, 4 million people have moved to Texas. With such a substantial population growth, the state has seen increasing demands for logistics services. This growth is also helpful for continued economic development within the state as more opportunities for businesses, and a growing labor force is present to meet that demand.
It's also worth noting that, from 2010-2018, metro Dallas-Fort Worth ranked first internationally in industrial space expansion, and Houston ranked second.
A Good Location for Consolidated Distribution Strategies
Operating distribution centers in Texas means reaching more of the US population faster and more efficiently.
Consolidated distribution strategies work well for businesses with a high number of SKUs that fulfill to customers across the US. Fulfilling orders in a centralized distribution center location, like central Texas, can reduce shipping fees and minimize transportation, carrying, and inventory costs.
Consolidating SKUs also reduces the amount of inventory moves businesses need to make to reach any specific region, which means faster reactions to changes in demand. High SKU industries like apparel, beauty, and footwear are all industries that can benefit from a consolidated distribution and inventory strategy.
Omnichannel & Ecommerce Fulfillment
Texas's national reach also makes it an ideal location for businesses that deal in ecommerce order fulfillment and omnichannel strategy. Two-day shipping has been table stakes for several years. It's a difficult goal to meet. Having distribution centers on the west and east coasts gets businesses part of the way there with two-day shipping access to about 77% of the population depending on location. Adding a central Texas distribution center into the mix closes the gap, allowing businesses to reach more of the US population in two days. It all comes down to positioning, and having a distribution center located in the central US is a must for nationwide, two-day shipping.
ITS Logistics' distribution setup — with distribution centers in Sparks, NV; Dallas, TX; and Indianapolis, IN — gives businesses two-day shipping access to 95% of the US population.
Businesses practicing omnichannel face many of the same challenges as ecommerce businesses and require a similar distribution setup. No matter where a business is fulfilling, two-day reach allows businesses to deliver a more consistent level of customer service over more retail channels.
Texas's Best City for Distribution and Fulfillment
Two Texas cities stand out as the state's best locations for distribution and fulfillment operations: Dallas/Fort Worth and Houston. Out of these two, the Dallas/Fort Worth area has more advantages.
Part of what makes Dallas such a strong distribution hub has to do with its access to multiple modes of transportation. Whether goods are being transported by rail, truck, sea, or air, Dallas has proximity to it all. BNSF and Union Pacific have hubs in Dallas, which is great for intermodal, and the Dallas Fort Worth International Airport serves as a major hub for transit freight from Latin America and Asia.
Dallas also has some of the best labor availability in Texas. Census data from July 2022 showed that Dallas/Fort Worth's population grew annually by more than 170,000 people, leading the nation in growth by total number of people. The US Bureau of Labor Statistics also estimated that total, nonfarm employment increased by 3.8 percent (154,800 jobs) between January and August 2023, outpacing the national increase average of two percent.
Uplevel Your Supply Chain Strategy with a 1.1 Million Sq Ft Dallas, TX Distribution Center
A Dallas, Texas distribution and fulfillment center offers plenty of strategic business advantages, but that's only half of the puzzle. The other half is finding a third-party logistics partner with the experience and capabilities to help your business maximize its supply chain operations.
ITS Logistics and its team have decades of expertise in every type of distribution and fulfillment service, including dedicated fleet services, drayage and intermodal, asset-lite transportation, and more.
ITS' Dallas/Fort Worth 1.1 million sq ft distribution center and 3 million sq ft national footprint gives our partners scalable capacity to meet their business needs.
ITS Logistics maintains a high standard for distribution:
99.67% ASN Timeliness
99.89% Load Quality
99.89% ASN Accuracy
99.92% On-Time Shipping
99.48% Fill Rate
99.38% Pallet & Carton Labeling
Ranked #11 for drayage and intermodal, ITS Logistics provides distribution services for some of the best and largest businesses around the globe, providing creative logistics solutions that meet business needs and exceed expectations.
With the highest level of service, unmatched industry experience and work ethic, and a laser focus on innovation and technology– the team at ITS strives to improve the quality of life for its partners by delivering excellence at every turn.
Reach out to learn more about ITS Logistics and find a creative logistics solution that will work for your business.
How can we help you?