Is Ecommerce Declining? How to Adapt to Changing Consumer Behavior
With ecommerce declining this year compared to 2020, how can shippers maximize the customer experience?
Is ecommerce declining or thriving in the post-pandemic world? Throughout the pandemic, ecommerce boomed as consumers lived in a largely virtual world.
The shift saw a 55% jump in global online spending equating to $1.7 trillion. The ecommerce boom in the United States is well ahead of forecasts, expected to cross the $1 trillion mark this year when it was originally predicted for 2024. Globally, ecommerce sales are expected to reach $5.5 trillion in 2022. Armstrong & Associates, Inc. predicts that both warehousing and ecommerce fulfillment operations to be among the stronger growth areas in the market in 2023.
With the explosion of ecommerce, parcel performance is a critical consideration for both retailers and manufacturers. For the past few years, the supply chain has been defined by disruptions, from the pandemic to labor shortages and many more in between. Last-mile distribution plays an important role in helping companies compete on customer experience. Together let's explore the key trends and strategies to get products to the last mile as seamlessly as possible.
Consumer demand and retail stockpiling
United States retail sales were flat in both August and September 2022 as consumers cut back on big-ticket spending on items like motor vehicles, electronics, and appliances. Factors driving down spending include stubbornly high inflation and rapidly rising interest rates. The GDP growth forecasts for next year according to Reuters have been slashed to 0.5%, down from 1.5% in the June forecast.
According to the National Retail Federation (NRF), consumers are seeking deals and discounts to stretch their dollars as the holiday season approaches. Except for automobiles, gasoline, building materials, and food services, retail sales increased 0.4% in September and 0.2% in August 2022.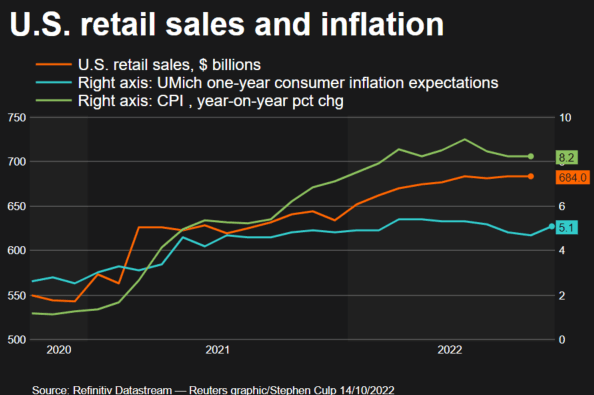 Mega online retailer, Amazon, offered a Prime Early Access sale for two days in October as an attempt to bolster sales and reduce stockpiled inventory. Amazon and other large retailers like Walmart, Target, and Kohl's have stocked up on items that were popular amongst buyers during the pandemic. Consumer tastes have changed, and these unwanted items are now occupying shelves.
Market research reveals that the recent Prime Day event was not as much of a success as the original Prime Day sale. Numerator did a study which found that the average spend per order on this month's sale was $46.68, down significantly from $60.29 from Prime Day in July. Ecommerce data firm Klover reported that transaction frequency was 30% lower during the early access sale as opposed to the original sale this summer.
Parcel rate increases
With inflation on the rise and supply chain disruptions leading to unforeseen charges, costs are on the rise across the shipping industry. Annual general rate increases (GRI) for 2023 were announced by major United States carrier FedEx in September with a 6.9% increase. Major competitor UPS has not yet announced an increase for next year. Contracts in place with big shippers may limit the magnitude of annual increases by allowing for rate caps ranging between 2% and 5%. However, rate caps typically don't apply to the many delivery surcharges, or accessorials, levied on services outside of the basic linehaul.
Regardless of GRI, shipping costs next year are expected to require more budget room. Ground-delivery rates will increase by 6% next year according to estimates by consultancy TransImpact LLC. That rate would mark the highest year-on-year increase in 12 years. There are further predictions that minimum charges could see additional double-digit hikes.
As carriers look to offset inflation to increase revenue quality in a slowing market, shippers may experience multiple rate hits throughout 2023. Carriers are shifting to dynamic pricing which would lead to numerous pricing changes during the year beyond the annual GRI. Freight experts have stated that the year-over-year increases may come with sticker shock.
Addressing price as a pain point
Last-mile delivery accounts for over 53% of total shipping cost and is likely to increase before the end of the year. The global last-mile delivery market was valued at $40.5 billion in 2021 and is expected to generate $123.7 billion in 2030. Getting big and bulky items from the final point of distribution to the customer's location has remained a major challenge. For things like furniture, fitness equipment, and other large items to be delivered in a timely matter to customers' doors requires extra planning.
Significant fuel surcharges played a role in higher shipment costs as fuel prices were driven up due to global pressures and conflict with Ukraine/Russia. However, there has been recent good news in the fight against inflation. The Labor Department reported that import prices dropped for the third straight month in September, pulled down by dropping petroleum prices and a strong United States Dollar. The data suggests that imported inflation pressures are subsiding as global supply chains improve.
Import prices decreased 1.2% in September after a 1.1% decline in August. From September 2021 – September 2022, import prices increased 6%. The recent declines are being attributed to declines in commodity prices and dollar appreciation which may suggest an ease on pressure of domestic inflation of goods according to JPMorgan.
Partnering with a 3PL
As some aspects of the market are stressed, still others undergoing an ease in pressure. Customer expectations have varied over the past few years and will continue to evolve. Partnering with a trusted 3PL provider can provide shippers with strategic locations and space to accommodate higher inventory volumes and a greater array of delivery options.
At ITS, our customers have experienced supply chain disruptions, labor constraints, transportation woes, inflation, and many other challenges. Our team has faced these challenges on our customers behalf and provides expertise beyond just ecommerce fulfillment.
With over 3M sq. ft. of distribution and fulfillment space, ITS can deliver for your customers to 95 percent of the United States within two days.
How can we help you?