Inventory Management: Just in Time Versus Just in Case
Just in time versus just in case: Is the lean operating model making a comeback?
Supply chains using the just in time (JIT) model have been criticized since the early days of the pandemic. Shoppers can recall a time of empty shelves of many basic of items. Retailers were ordering little inventory in the name of efficiency and the increase in demand came as an unforeseen issue. The public was hard-pressed to find toilet paper, meat, cold medicine, and many other common household items.
However, just a few years later retailers are now struggling with high inventory levels and warehouses packed to the brim. By September 2022, retailers were drowning in product, with total retail inventories up 22% YOY. The following holiday season was full of steep discounts, up to 34% for toys and up to 20% for electronics. Still, retailers remain challenged with oversupply issues.
Which inventory management strategy is best for your business?
JIT inventory strategy is described as when manufacturers receive materials and retailers get their products when they are needed–right on time. The advantages of JIT apply best to functional products with predictable demand and reliable suppliers. Technology and data collection can lend insight into shoppers' buying habits and inform the ordering process. However, as can be seen from recent years there is a wide range of risk factors that can undermine a JIT strategy.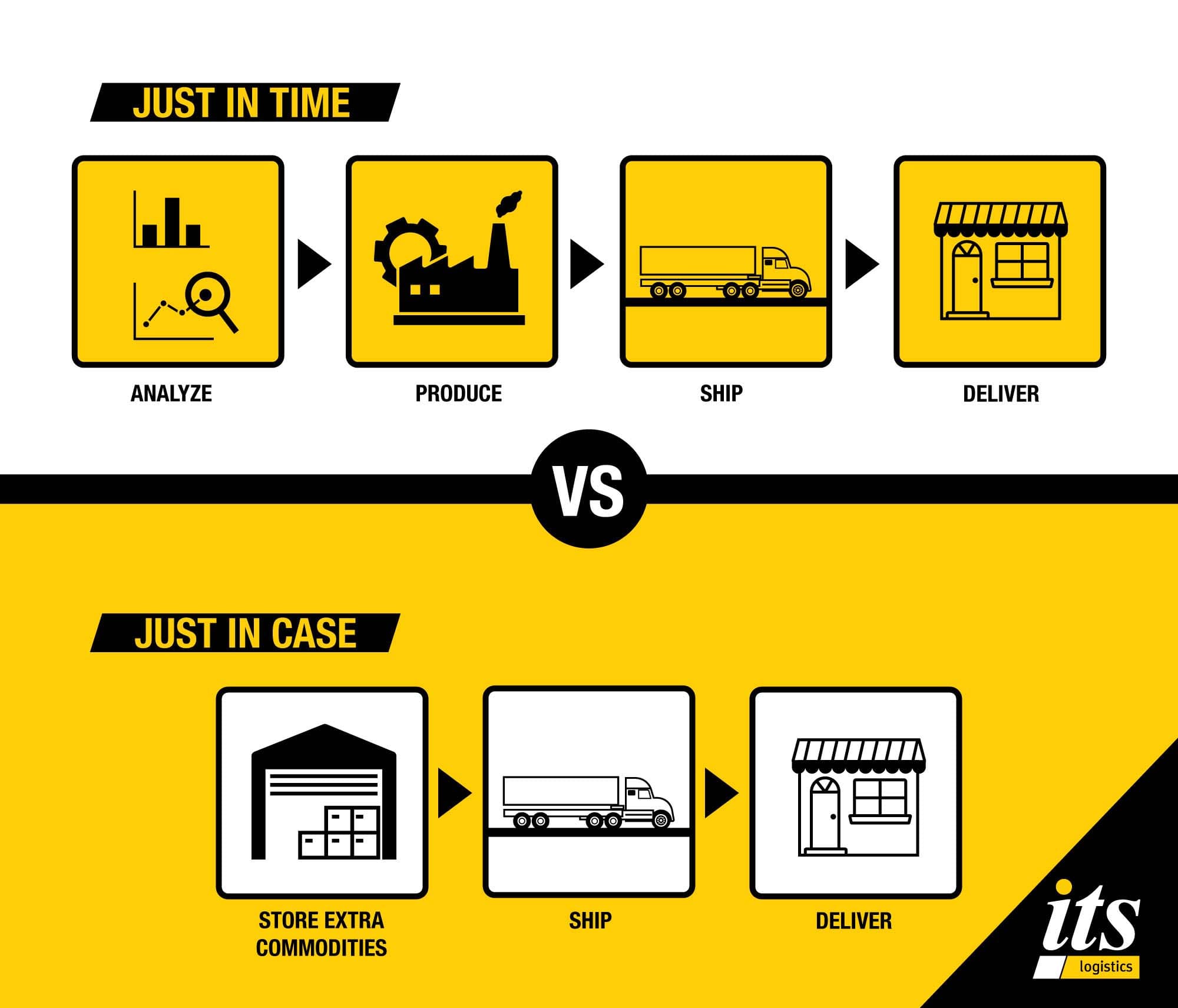 A just in case inventory (JIC) management strategy provides some protection against unpredictable lead/demand times, unreliable suppliers or when materials are unavailable, and products are out of stock. Companies will hold on to reserve stock to guarantee they will have what they need. Raw materials are stored and waiting for their product journey or the products themselves are stored in a warehouse. When sudden demand arises, the consumers' orders can be fulfilled.
This strategy works well with low-cost materials that are easy to get and nonperishable. When high inventory levels build up in the supply chain, there is a slow response to change. Additionally, the cost of storing these products or materials can drive up prices for storage, as we have seen happening today.
A Q&A with ITS Logistics Leadership
Zak Urrutia | Vice President of Distribution Operations
As the supply chain pendulum swings, could the lean operating model be making a comeback or is a modified strategy the future? We inquired with our industry experts about their firsthand experience of just in time inventory management.
"The current surge in inventory levels across many sectors is indicative of just in time operating models in the supply chain being in critical condition, but I'm not confident that the concept has, or will, truly die. The massive disruptions that echoed throughout the supply chain since the dawn of the pandemic loom large now, with the aforementioned inventory levels across many industries serving as one of the most obvious signs of a major shift in behavior. Inventory levels didn't explode overnight. What we're currently experiencing is the result of many reactions, reassessments, and attempts to re-stabilize the balance between supply and demand over the last two years.
Just as it took a significant amount of time for inventory levels to build back up, it will take time for the supply chain to find its 'new normal'. Several sectors are still experiencing significant supply uncertainty, while many industries are simultaneously focused on what could happen to them if demand and market sentiment shifts downward. To that end, I believe that cost pressures and a focus on re-establishing efficient business practices amidst ongoing macroeconomic uncertainty will swing the pendulum back toward the proven concepts of just in time operations, albeit with many companies investing in a safety stock strategy, or revised approaches to manufacturing to hedge against the weaknesses exposed in the supply chain by the COVID-19 pandemic."
Kasia Wenker | Director of Supply Chain Solutions
"Just in time is not dead. I would like to challenge any discussion about JIT operating models to instead focus on inventory strategy. Different demand patterns drive specific procurement strategies. Inventory strategies will need to provide an answer to the gap between demand signal and overall supply chain lead time. We have seen inventories swell up, but they are coupled with increased turns. Inventory value alone is a very myopic way of judging performances. We have seen a large accumulation of inventory on hand with this model. I feel like the model of the future will still be able to hedge against disruptions, but there will be a laser focus on high and low margin product strategies, high and slow movers. I think we will go back to basics for inventory and demand planning."
Paul Brashier | Vice President of Drayage and Intermodal
"Supply chain strategies do not forever change but do swing due to prevailing circumstances. After the 2009 recession, JIC methods used to address the consumer did not drive high enough demand to justify high inventory and that there was plenty of cheap transportation capacity. Jump forward to the aftermath of the 2020 pandemic where the lack of inventory and stress on the JIC model saw many BCO's hold high inventories to weather high consumer demand and a lack of transportation capacity. With a looming economic contraction in 2023, that strategy will be challenged as high inventory is putting significant pressure on the US supply chain. As always, the sweet spot lays somewhere in the middle and should remain so for the foreseeable future."
Ryan Martin | President of Asset Operations
"The global supply chain is a giant pendulum. Did the pandemic kill JIT? No, it just made people think a bit differently about their inventory position in the short term. The pendulum will swing back as it always does as long term high inventory is a recipe for poor financial performance. Retailers had to move their inventory positions closer to the end consumer and at much higher levels to mitigate stock out risk. You can't sell what you don't have, but if you have too much you either need to 'pack and hold' or discount heavily and that's what we're currently experiencing. I believe organizations will normalize their inventory positions as the global supply chain works through the kinks of the past two years.
Like everything in life the pendulum will swing back to normalcy–and I believe that it will happen in 2023. Then again… what is normal in supply chain?"
Discover how ITS Logistics has helped its customers
How can we help you?