How to Broaden Customer Reach with Location-Based Fulfillment
Location-based fulfillment to provide a reliable customer experience
A successful fulfillment strategy can be a moving target and operational location can be one of the most critical considerations. Consumers will always weigh their shipping options, usually in search of a combination of the fastest and most cost-effective solution. In addition to location-based fulfillment strategy, there are several considerations for brands when it comes to implementing efficient shipping and logistics.
Shipping fell under extreme pressure in recent years due to supply chain breakdowns, inconvenient warehouse locations, and covid restrictions. However with ecommerce on the rise and 95% of shopping projected to be online by 2040, it's essential to build resiliency for future disruptions. Doing so will ensure that an order arrives into the customer's hands as soon as possible, leading to a positive experience and increasing brand loyalty.
To do this effectively, complete visibility of inventory is required across omnichannel operations. Customers are more tech-savvy and thus have set expectations higher for orders to arrive within 2-3 days. Diversifying direct-to-consumer (DTC) operations will help maintain customer loyalty as the appetite for shopping speed and accuracy has risen.
Managing a multi-node network may or may not be necessary to provide a reliable experience for customers. The option becomes attractive when the closer proximity to the customer base makes it possible to ship an order faster and for less. However, there are costs associated with an expansion and those must be managed correctly to get the maximum return on investment.
Labor negotiations could drive up shipping costs this year
The stakes are high this summer with labor negotiations with unions in both seaports and trucking. Port labor negotiations between the Pacific Maritime Association (PMA) and the International Longshore and Warehouse Union (ILWU) the last two decades have historically been contentious and marked by freight delays. In May 2022, talks began on a multi-year contract covering more than 22,000 dockworkers at 29 ports on the West Coast, from California to Washington. Dockworkers on the west have been working without a contract since it last expired in July 2022, forcing BCOs to shift cargo to East and Gulf Coast ports to avoid disruptions.
The United Parcel Service (UPS) and the International Brotherhood of Teamsters union have recently entered labor contract talks covering roughly 340,000 US drivers, package handlers, and loaders. The current contract expires at midnight on July 31, 2023, and members are prepared to walk off the job if a deal Is not delivered. The union currently maintains a $300 million strike fund that would cover member pay and healthcare.
When is it appropriate to outsource geographic expansion to broaden reach? We asked Director of Supply Chain Solutions, Kasia Wenker, and Vice President of Drayage & Intermodal, Paul Brashier, for their expertise.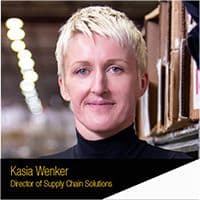 Kasia joined ITS Logistics in 2004 after previously working at Intel and UPS as an industrial engineer. She holds her MBA with a Supply Chain Management emphasis and a Masters in Industrial Engineering.
When is it most optimal to have more than one node when it comes to a fulfillment center location? Which cases would be the best fit?
"There really is no standard answer to this question. What it really comes down to is the characteristics of your business, the number of SKUs, and overall supply chain flexibility. For those customers carrying a lot of SKUs, splitting inventory between multiple locations will significantly impact inventory levels and affect overall cost. There will be higher carrying costs to split two inventories rather than keeping it all in one central location. And beyond that, it will raise costs for manufacturers to get the product to multiple locations.
When you are limited to one central location, what is the optimal geography? This is where you can work with logistics service providers to optimize outbound costs and transportation. A DC located in Dallas, TX can reach the entire US in just three days by ground transportation so you aren't losing out by limiting to one fulfillment location."
Is it important to be located close to the fulfillment center?
"It's not because you want to optimize the DC location to your customer service objectives. The home office can be located anywhere! This is where it's important to trust your 3PL partner. Having an open relationship and plenty of communication is certainly something to look for when you are considering outsourcing these services."
How will the location of your fulfillment center affect the rest of your supply chain?
"The location of your fulfillment center will impact ocean freight costs, inland transportation costs, time in transit, and overall inventory costs. These facilities are important because they are the last place where your product will land before it is prepared to be put into the customers' hands. As we have seen in the last few years, we can expect the unexpected to happen. When there are disruptions at the ports and containers can't be processed, that will cause delays. When manufacturing output is low due to undersupply, labor shortages, or other macro issues, there will be delays. Ensuring that you have a solid and reliable network in place will help to ensure that you can meet customer demand."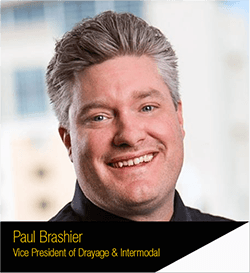 Paul Brashier has been an industry leader in the sales and logistics industry for over 20 years, working for such companies as Schneider National, Coors Brewing, and Coca-Cola. Joining ITS Logistics in 2015, Brashier created and elevated the drayage and intermodal division to #11 in the United States to over $300 million in revenue. Having been featured in CNBC, the Wall Street Journal, MarketWatch, Bloomberg, The Loadstar, CBS News, Freight Waves, and Transport Topics, Brashier lends his expertise on US and global supply chain matters. When he isn't working, which is rare, he spends time at his ranch with his wife and family, travels, and volunteers for the Down Syndrome Network of Northern Nevada.
As an expert in the drayage space, what are the fastest and most cost-effect methods to transport freight from any US port to the Dallas-Fort Worth metro area?
"Some might assume that the best way to get freight into Dallas would be landing at the Houston port. However, it's faster to book IPI through the Port of Los Angeles/Long Beach to the Dallas rail ramp as opposed to booking to the Port of Houston. This will significantly lower your drayage costs. The average time from LA/LB to Dallas-Ft. Worth DC for this process would be around 3 to 5 days. Although I would caution doing that right now with potential labor unrest at all of the West Coast ports."
What is the fastest and most cost-effective way to reach a distribution center in the Midwest?
"Booking IPI to Dallas-Fort Worth via East Coast ports to the Indianapolis, Columbus, or Chicago rail ramps. This would take on average 5 to 6 days and allow you to avoid any West Coast labor disruptions."
What do you recommend if things go south later this year with labor negotiations at the West Coast ports?
"Dallas and Indy are very business-friendly and have stable labor markets. If you need to avoid West Coast DCs, these are optimal locations for your fulfillment operations to avoid labor disruptions. Book to Gulf and East Coast ports IPI to Indy; book East Coast IPI to Dallas and book Gulf and dray to Dallas. Our brand-new Dallas and Indy facilities are located a stone's throw away from the rail ramps, make them easy to access."
Choosing a trusted fulfillment partner
As business operations grow, the time comes to outsource shipping and distribution to a trusted 3PL provider. With over 3.7 million square feet across all distribution facilities and a knowledgeable team of distribution, fulfillment, and warehousing experts, ITS can offer a unique nationwide solution that will help grow business operations.
ITS Logistics provides comprehensive B2B, D2C, retail and omnichannel distribution services—from a single small parcel ecommerce delivery to LTL and full truckload distribution. With advanced EDI, API and custom system integrations, expertise in vendor compliance and routing guides, and a hyper focus on customer service, we will help you increase efficiency and ultimately save you time and money.
How can we help you?