The Best Locations for Distribution Centers in the United States
Much of the success of your distribution and fulfillment business can come down to the locations in your warehouse network. The best locations for distribution centers are the ones that are strategically positioned to reach the most customers as quickly as possible. Supply chain disruptions affect shipment times, and a diversified network helps to prevent delays.
Depending on demand and your manufacturing capabilities, you may have multiple distribution center locations. You can reach most customers in the United States in two days with two distribution nodes if they are placed in strategic locations.
What to look for when searching for a location for your next distribution center
There are key characteristics to look for when selecting a location for a distribution and fulfillment center to ensure it is a good fit for your business. You'll want to make sure that it's located in a centralized area that has the infrastructure, population, and available workforce to support a logistics operation. Proximity to large cargo airports or seaports as well as good railroad infrastructure and interstate highway access are all attributes that make an ideal distribution hub for your next warehouse.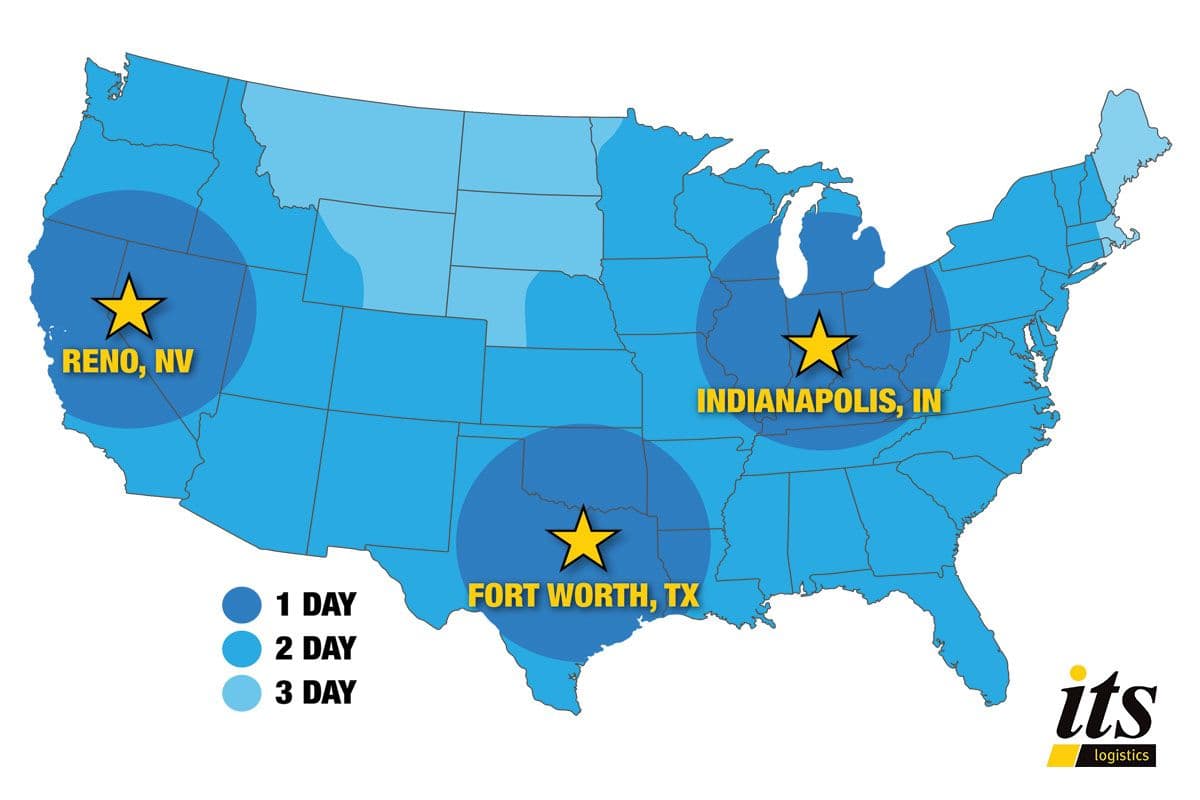 Top distribution regions for warehouse locations
Your distribution centers need to be strategically located to reach the most customers as quickly as possible. It's important to consider which regions and how many nodes you'd like to be in and how that will affect your order fulfillment. Here are a few examples of locations in different regions across the country and their reach:
A fulfillment center location in the West like Reno, NV paired with a location in the Midwest like Indianapolis, IN allows you to reach 90% of the US population in two days.
A distribution center in the West like Los Angeles, CA and one in the Southeast like Atlanta, GA could reach 82% of the US in two days.
A warehouse location in the West like Reno, NV paired with one in the Northeast like Philadelphia, PA would allow you to reach 69% of the US in two days. If you added a third distribution center to this equation like one in the South in Dallas, TX, you could reach 92% of the US in two days.
If you had a distribution facility in Reno, NV, one in Indianapolis, IN and one in Dallas, TX, you could reach 95% of the US in two days. (Current ITS distribution network)
The best cities for distribution
Once you've chosen the regions for your distribution centers, you need to look at specific cities and states to determine the best fit for your business on all levels. You'll want to consider the things listed above like infrastructure, access, and proximity to transportation hubs to ensure you are able to ship customer orders in a timely manner, but you'll also want to make sure you are choosing a location that is business friendly. A few great cities for this are: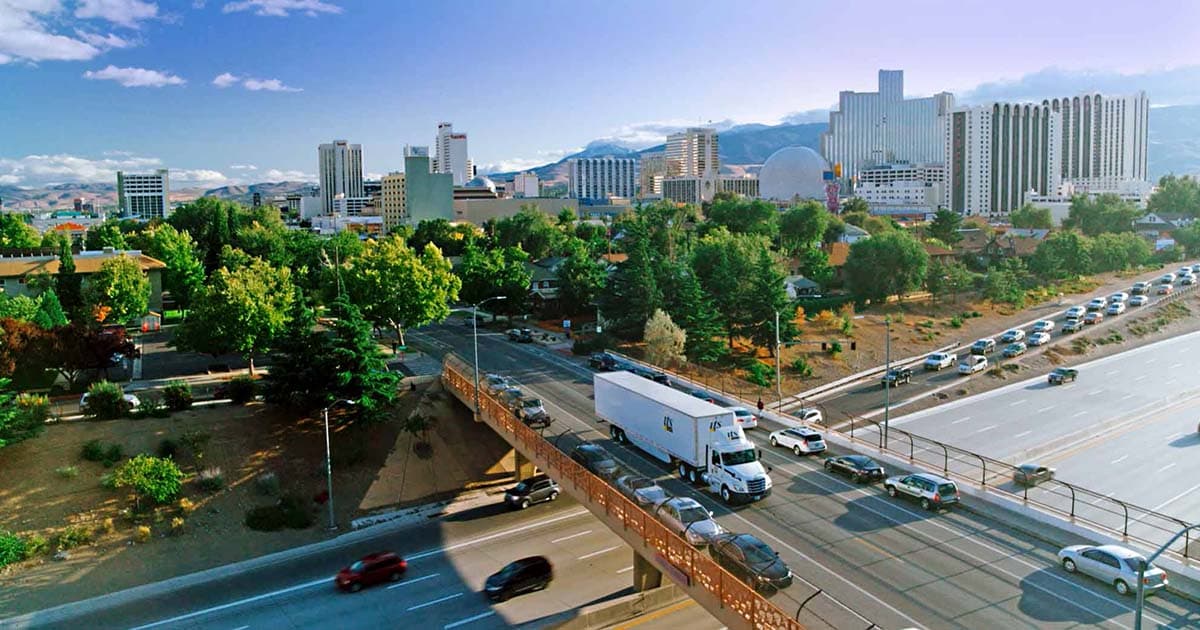 Reno, NV or Sparks, NV
The Reno-Sparks area is close to California, but not in it, which can be advantageous for business costs. It offers proximity to the Port of Oakland, sits at the center of an extensive transportation network, and the state of Nevada is a very business-friendly state with significant savings when it comes to taxes, labor, and the overall cost of doing business. Companies and West Coast distribution centers located in Nevada enjoy no corporate income tax, no personal income tax or inventory tax. Nevada is also free of franchise, non-unitary state, inheritance, estate, and intangible taxes. Utility costs are also significantly lower than neighboring California, making this the perfect place to do business. Learn more about the distribution benefits of Reno, NV.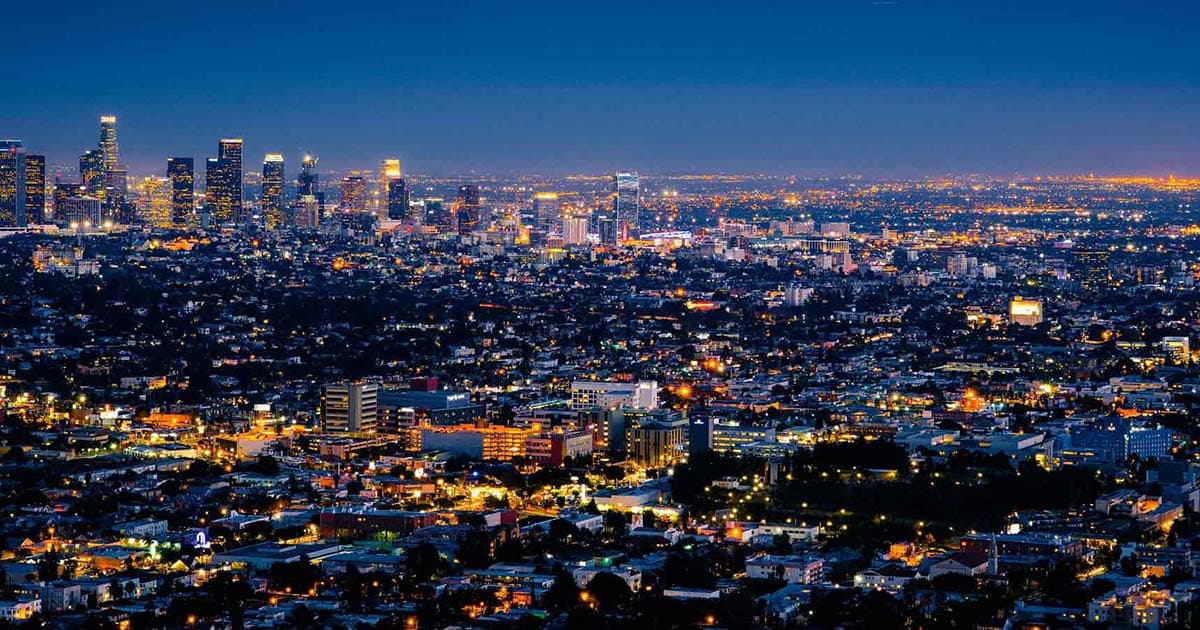 Los Angeles, CA or Long Beach, CA
This area in Southern California is the second-largest metro area in the United States and is strategically placed for imports and exports with the Ports of Long Beach and Los Angeles. It also offers 5,800 commercial miles of high traffic volume Interstate and State highways, making it a great hub for transportation.
Dallas, TX
Dallas is strategically located with access to the West and Southern United States. It is also one of the most logistics-friendly metro areas in the country as it is well-positioned to decrease your time to major markets and provides easy access to the Western states, Southern states, and Houston. The city offers a robust incentive program that includes job training, tax exemptions, and various other programs that are designed to stimulate the economy as well as a lower cost of living.
Chicago, IL
As the commercial hub of the United States, Chicago has a large cargo airport, numerous interstates, railroads, and water access. It is also one of the most logistics-friendly metropolitan areas with one of the largest interstate highway systems in America and a 1 to 2-day drive from half the US population.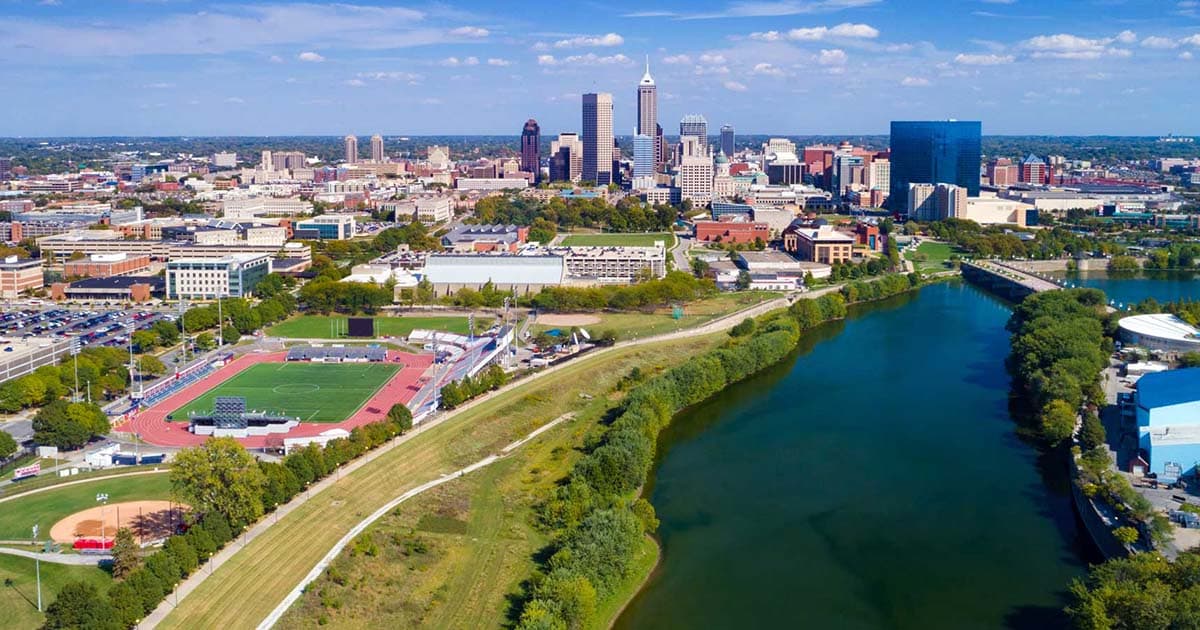 Indianapolis, IN
The Indianapolis metropolitan area offers access to several major interstates, a large rail network, and ports, as well as proximity to Chicago and UPS Worldport Air Hub in Louisville. Its strategic location allows you to reach 75 percent of the US and Canadian populations in a day and a half. Learn more about the distribution benefits of Indianapolis, IN.
Atlanta, GA
Atlanta is home to the busiest airport in the world, a fast-growing metropolitan population, and good road infrastructure, all of which make it a great city for distribution and logistics.
Philadelphia, PA
The economy of Philadelphia is exploding. It offers a central location in the heart of the Northeast, a transatlantic hub for American Airlines, access to the Delaware River Port Complex, as well as top road and railroad infrastructure.
What is the best distribution hub setup for your business?
Expanding and improving your distribution services requires a deep dive into the following key factors: availability and cost of labor and real estate for space; proximity and access to seaports, airports, rail hubs and transportation networks; proximity to population; and local and state taxes and incentives. Then you need to determine how many distribution nodes make sense for your business which is always a balance between costs and shipping times. If you need help determining the best solution for your business, reach out today!
Two-day shipping to most of the US with ITS Logistics
ITS has three strategic multi-use distribution hubs in Sparks, Nevada, Dallas, Texas and Indianapolis, Indiana. These nodes allow us to reach 95 percent of the US population in two days. Learn more about the advantages of our locations and how they benefit your customers by contacting us today.
How can we help you?